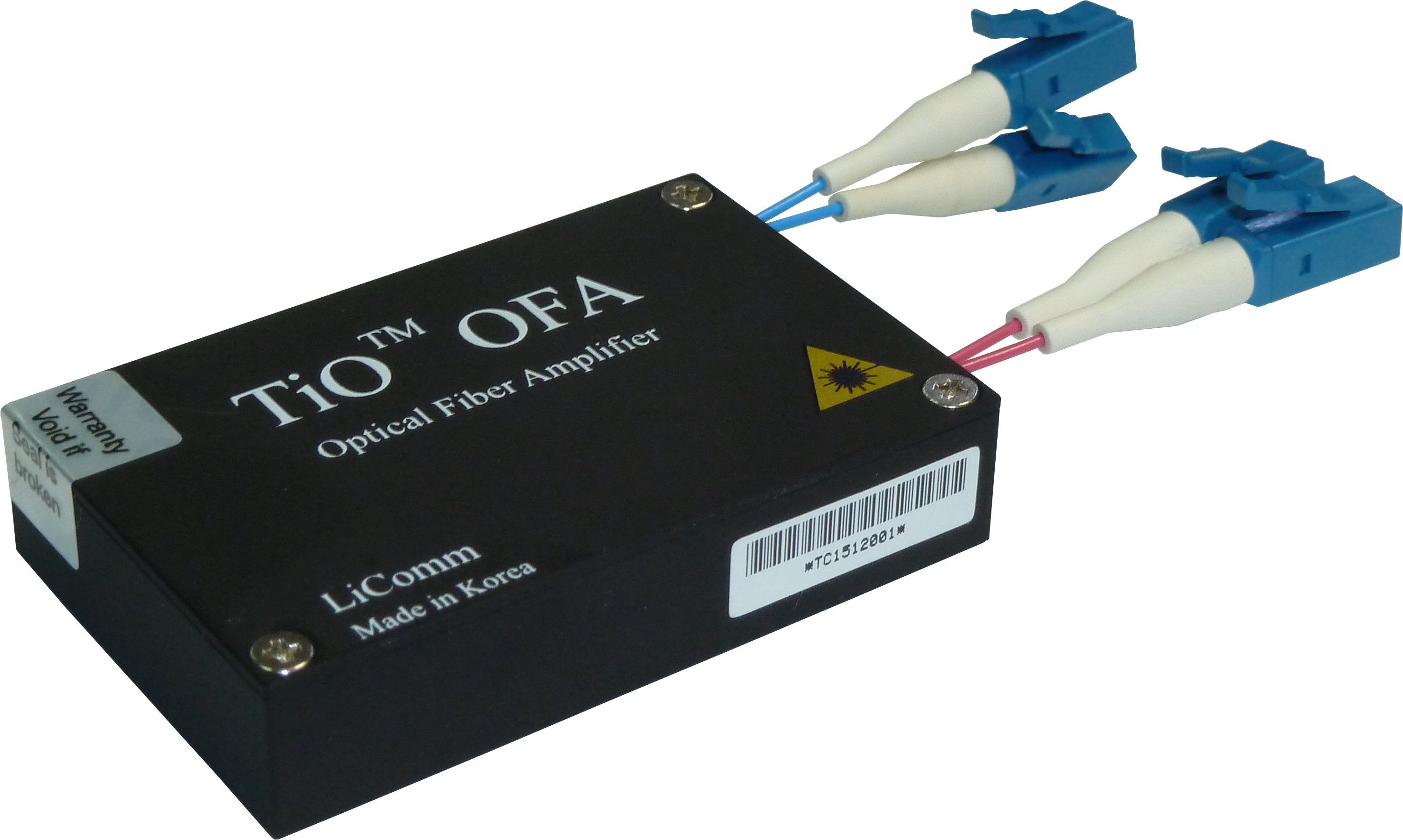 The Micro EDFA 2-IO (Two EDFA's in One Package) offered by DBX is the smallest in the industry (55mm x 35mm x 12mm). The Micro EDFA 2-IO is two independently controlled and monitored EDFA's in the same package. It is designed for single wavelength applications in particular DWDM and OADM HD Networks. The Micro EDFA 2-IO is 90% smaller than our nearest competitor as a result engineers have more design options. Powered by two uncooled 980nm pump lasers it has extremely low power consumption over the entire temperature range. Another key point is that it does not require any external cooling or additional heat sink. This single channel Micro EDFA can operate 2 separate channels simultaneously and is above all a very cost effective solution.
Micro EDFA 2-IO is TWO Fully Functional Optical Amplifiers
The Micro EDFA 2-IO is two turn key OA's equipped with independent control circuitry, Automatic Power Control (APC) and Forced Laser Shutdown. In fact, it produces an amazing high powered output of up to 17 dBM per EDFA. Embedded PD's pre and post pump laser allow for accurate power delivery for both independent devices. The state of the art device can also be equipped with a Variable Optical Attenuator (VOA). To be sure, the power output can be adjusted from 0 dBm to + 17 dBm. The VOA can be coupled with an Optical Tunable Filter (OTF). In short, the Micro EDFA 2-IO is the best dual micro EDFA solution on the market.
Please contact DBX for more details at
sales@dbxdirect.com
Other Micro EDFA options:
2 EDFA's in One Package
Ultra Compact Size: 55 x 35 x12 mm
2 Full Fuction EDFA Independently controlled
Automatic Wavelength Locking
Separate High Output Power up to 17 dBm for each EDFA
Auto Power Control (APC) or Auto Gain Control (AGC)
Control & Monitoring by RS232
Optional Variable Optical Attenuator (VOA & OTF)
980 nm Uncooled Pump
Embedded PD's pre and post pump
Fully tested Telcordia GR-1312
HD Networks Single Channel DWDM System Design
Coherent 100G ROADM Networks
Smallest Form Factor Micro EDFA
Covers 2 channels in One Device
Less Fiber Handled, All Er Doped Fiber contained in sealed package
Telcordia Tested and Compliant
High Volume Production and OEM Certified Facility