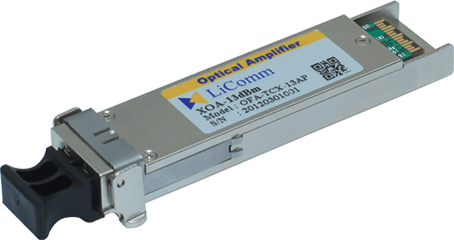 The Micro EDFA XFP offered by DBX is an EDFA in a XFP optical transceiver package. The field pluggable XOA is fully compatible with any XFP port. The Micro EDFA XFP is ideal for fiber deep architectures starved for power. Chiefly CATV expansions, remote natural gas stations not to mention rural wireless towers. It is designed for single wavelength applications in particular HD Networks. The Micro EDFA XFP is powered by a single uncooled 980nm pump laser. For this reason, it has extremely low power consumption over the entire temperature range. Another key point is that the pluggable XFP keeps cool. It does not require any external cooling or additional heat sink.
Micro EDFA XFP is a Fully Functioning Optical Amplifier
The Micro EDFA XFP is a turn key OA equipped with control circuitry, Automatic Power Control (APC) and Forced Laser Shutdown. In fact, it produces an amazing high powered output of up to 17 dBM. Embedded PD's pre and post pump laser allow for accurate power delivery. It is important to realize, the power output can be adjusted from 0 dBm to + 17 dBm and is fixed with a feedback loop.  Another key point, is the field pluggable XOA can add 20 kM of additional distance by simply plugging into a spare XFP port. In the event additional distance is required, the pluggable XOA can be coupled with an SFP+ or XFP to travel up to 120 kM. In summary, the Micro EDFA XFP is the best low cost solution to extend fiber optic signals to remote locations.
Please contact DBX for more details at
sales@dbxdirect.com
Other Micro EDFA options:
XFP Pluggable EDFA Optical Amplifier
Discoverable to Network Elements
High Output Power up to 17 dBm
Auto Power Control (APC)
MCU control and I2C Interface
Low Cost EDFA Solution
Embedded PD's pre and post pump
Fully tested Telcordia GR-1312
Low Cost Power Deployments, no need for expensive full EDFA rack solutions
Fiber Deep Networks
Low Cost Rural Fiber Optic Network Deployment
Remote Natural Gas Pipeline Operations
Tactical Military Communications
Wireless Backhaul and Remote Cell Tower Fiber Feeds