DBX Impact
DBX represents Commscope's cutting edge products in support of the Tier 1 Telecom market on the Verizon account team. DBX works closely with engineering, staff and operations on many aspects of Network Transformation and modernization projects providing innovative connectivity solutions.  DBX uses its experience in FTTP, FTTH, 100G Ethernet Services, DWDM, ROADM, EDFA, SDN, C-RAN, CPRI, DSX and Ethernet solutions to help support ongoing efforts. We are offering the entire line of connectivity solutions for wireline and wireless business operations.  We offer engineering solutions for central office, outside plant, MDU & SFU applications, MSC and Cell site solutions. DBX is a valuable resource and region sales partner.  We are part of a group of extremely talented professionals with sales revenue approximately $5.3 billion.
FTTH Field Location: CommScope Fiber Distribution Hub (FDH) Installation. photo by Dean Brosie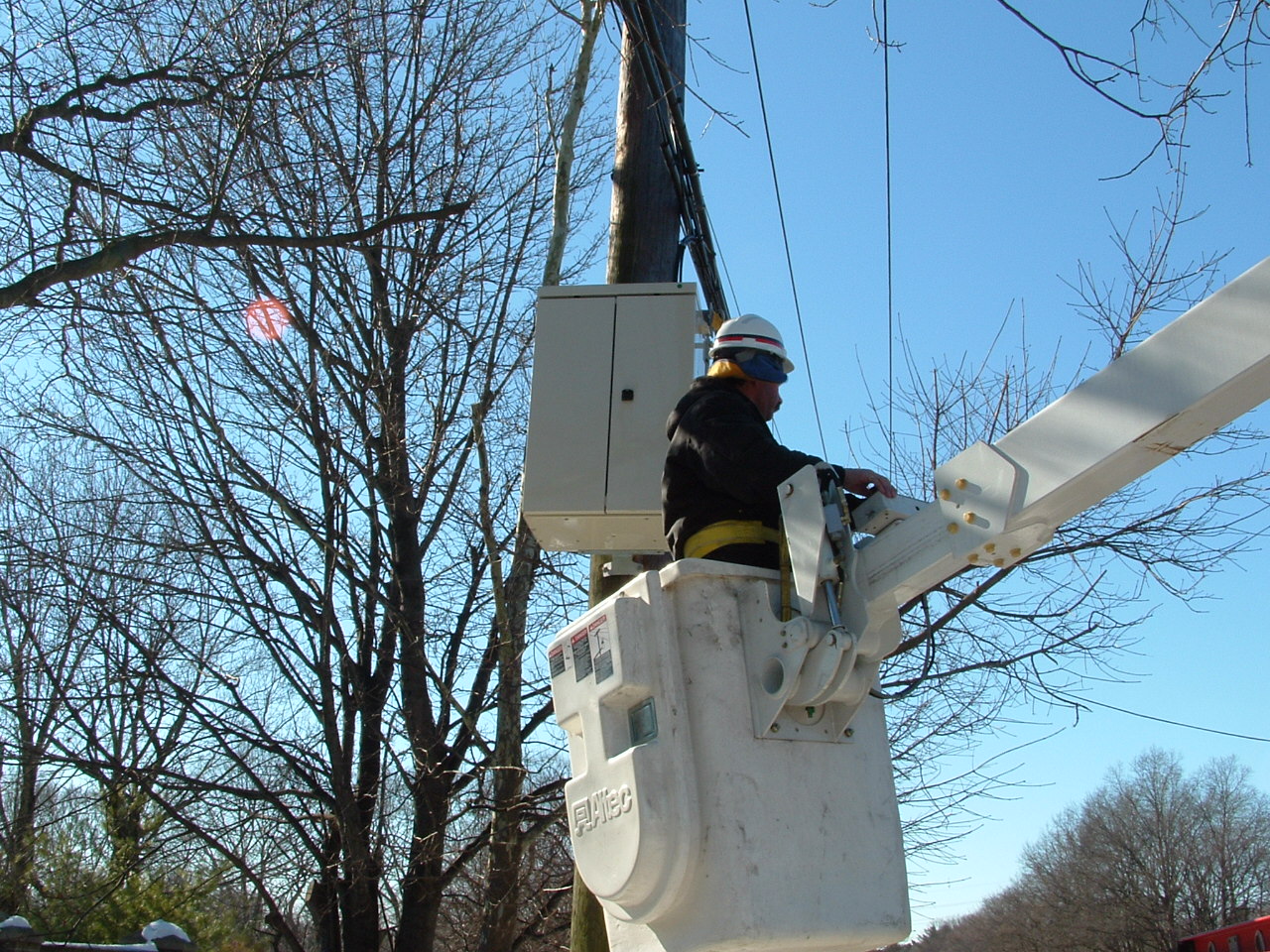 CommScope
CommScope (NASDAQ: COMM) helps companies around the world design, build and manage their wired and wireless networks. Commscope's vast portfolio of network infrastructure includes some of the world's most robust and innovative wireless and fiber optic solutions. Talented and experienced global team is driven to help customers increase bandwidth; maximize existing capacity; improve network performance and availability and simplify technology migration. Commscope solutions are found in the largest buildings, venues and outdoor spaces; in data centers, wireless cell sites; in telecom central offices and cable headends; in FTTx deployments. Vital networks around the world run on CommScope solutions.

DBX Impact
DBX represented EXFO's fiber optic network testers for over 20 years. DBX is an expert in fiber optic test and measurement products. DBX trained and certified over 5,000 industry professionals on fiber optic connectivity, testing, splicing, optics and cleaning practices. DBX built the portable test business from the ground up. In 1995, EXFO was an unknown startup. DBX grew EXFO's revenues in territory to an excess of $105 million. DBX works closely with Tier 1 service providers to obtain product approvals. DBX worked with customers to solve many fiber deep network challenges. DBX provides continuous product support, detailed customer training and instruction. Our customers include Telecom Service Providers, Labs, OEM's, MSO's, Wireless Service Providers, Utilities, Rail, Power Plants, Data Centers, Financial Institutions, University Labs and Infrastructure Facilities.
Dean Brosie, Founder & President of DBX pictured here with Germain Lamonde, Founder & CEO of EXFO celebrating EXFO's 10 year on the Nasdaq.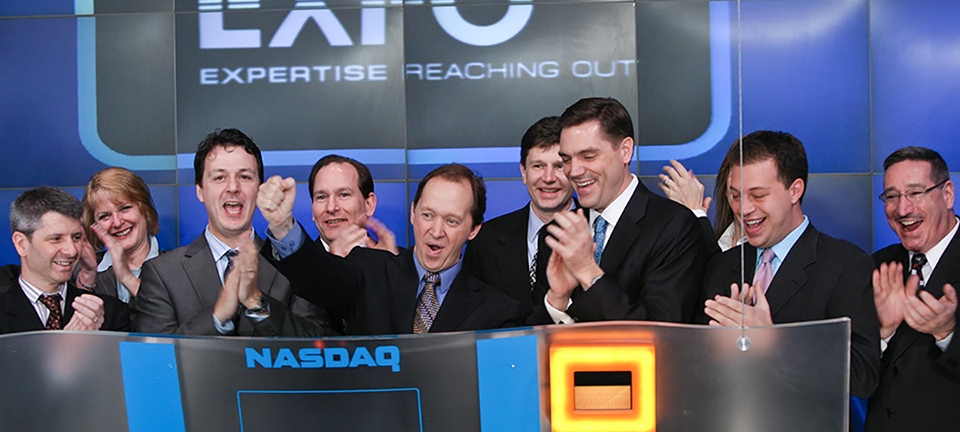 EXFO
EXFO Electro-Optical Engineering Inc. is a leading provider of next-generation test solutions for wireless and wireline network operators and equipment manufacturers in the global telecom industry. The company is a worldwide leader in the portable telecom testing controlling 35 -40% market share.   EXFO has a staff of approximately 1500 people in 25 countries, supporting more than 3000 infrastructure enterprises worldwide.

DBX  Impact
DBX represented OPLINK Communications fiber optic device products for 5 years.  We offered EDFA sub-assemblies including passive optic filter based WDM's, gain flattening, and many thin film based fiber optic components.  Our experience grew into offering solutions for filter based MUX and DMUX sub-assemblies, optical switches, interleavers and many other DWDM and CWDM network system building blocks for 10G, 40G and 100G technologies.   DBX worked closely with our customers on new product designs forcing innovations and managing the process to ensure our customer met critical product release dates.  Our passive optics business grew from startup levels to revenues in excess of $49M annually.  DBX worked closely with our customers design engineers and operations to develop cost effective customer driven solutions. We were ultimately successful because we offered our customers a unique experience tailored to their end user requirements.   This effort resulted in a number of products being approved and standardized at major Tier 1 OEM's. OPLINK grew from 25 employees to over 2,500 in multiple locations. DBX became an expert in passive fiber optic technologies, EDFA's and optical switching during this time frame through the many product challenges. DBX sales represented over 60% of overall sales at time of IPO.
OPLINK Communications Inc.
OPLINK Communications is a leading provider of comprehensive optical networking components, subsystems, and custom Optical Manufacturing Solution (OMS).  The products enable bandwidth creation, amplification, switching, routing, signal conditioning, transmission and protection solutions to major Telecom OEM suppliers, enterprise networking, Tier 1 Telecoms and MSO equipment companies.  Oplink's technology includes DWDM, CWDM modules, Optical Switching devices, Multi channel filter devices, EDFA's and EDFA sub-assemblies & much more.
DBX Impact
The Combination Cleaning™ process pioneered by Chemtronics and advanced by DBX is now an industry standard for cleaning fiber optic connector end faces.  Recommended by Telcordia GR-2923-CORE and exceeding SAE Aerospace AIR6031 & IEC-61300-3-35 & TR62627-1.  DBX has obtained many exclusive contracts at Tier 1 Infrastructure companies and has grown the business dramatically during this time.  DBX has represented Chemtronics for over 15 years promoting the 2 step cleaning approach as the best first pass method.  DBX trained and certified  over 5,000 industry professionals  on fiber optic connectivity, testing, splicing, optics and cleaning practices. Chemtronics cleaning method is approved in mission critical Telecom, CATV, storage, data center, enterprise, banking, and Aerospace industries.  Chemtronics FOCCUS™ brand products give customers clean connections the first time, every time.
Chemtronics Precision Fiber Optic Cleaning
Starting in 1958, Chemtronics offered a handful of cleaners which has evolved into a complete line of ultra-pure solvents & wipes for PCB electronics and the telecommunications industry.  Chemtronics products are synonymous with the highest performance, quality and innovation the world over.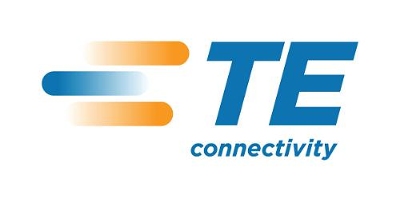 DBX Impact
DBX represented TE Connectivity BNS for 5 years in support of the Verizon Tier 1 Telecom market prior to being acquired by CommScope.  DBX grew the business from a strong CO & FTTH portfolio into emerging technologies.  We provided cost effective solutions in a rapidly deployed Ethernet product portfolio, GPON installations, 10G to 100G High Speed Ethernet services, DWDM, ROADM, EDFA, Wireless backhaul capacity solutions & many other network critical programs.
TE Connectivity Broadband Network Solutions
TE Connectivity is a leading global provider of engineered electronic components, network solutions, specialty products and Sub-sea telecommunication systems with sales in excess $14 billion to customers in more than 150 countries.  TE Connectivity Broadband Network Solutions (BNS)  is the Telecommunications Equipment, Enterprise Networks and Wireless business section serving the Tier 1 carrier marketplace, MSO, Data centers, Cloud, and Enterprise companies enabling the delivery of high-speed Internet, data, video, and voice communications over wireline, wireless, cable, enterprise, and broadcast networks and was acquired by CommScope.

DBX Impact
DBX has represented FITEL Fusion Splicers  for over the past 15 years. DBX has worked closely with countless customers training and demonstrating fusion splicing technology. We have introduced the FITEL Splicer and developed many new markets and customers to these reliable products. FITEL Fusion Splicers industry leading units are simple to use yet extremely precise and repeatable. FITEL splicers are the most robust product on the market today. We provide our industry leading solutions to telecom, electric utility, broadband, enterprise, wireless, rail, power generation, oil, steel and natural gas industries. 
FITEL Fusion Splicers
FITEL fusion splicers are designed using state-of-the-art technology from Furukawa Electric, Japan. Furukawa is largest supplier of fiber optic fusion splicing equipment in the world. Decades of manufacturing experience has made the FITEL splicers second to none. FITEL splicers have the industry's fewest returns and longest up time per unit in the field.

DBX Impact
DBX represented ADC for over 5 years delivering revenues in excess of $125 million in sales during this period.   DBX supported the Verizon Fios FTTP build from the beginning working closely with Verizon engineers and the ADC factory to create real time solutions.  These solutions resulted in important product approvals and worked this complex process to secure new business for ADC.  DBX's worked to secure strong market share positions 50% and sometime 100% depending on the product line.  Do to the strength of ADC's business it was acquired by Tyco Electronics and became TE Connectivity (Broadband Connectivity group).  ADC had 8500 employees and sales $1.2B at time of acquisition.
ADC
ADC Telecommunications, Inc. was a world leader in fiber optic connectivity and as a result was acquired by Tyco and formed TE Connectivity  BNS group.  Products included High Capacity Optical Fiber Distribution Frames, FTTX OSP Fiber distribution HUBS, Multi-Fiber cable assemblies, connectors, planer optical splitter modules, WDM modules, OSP drops, MDU enclosures, digital signal cross-connects and digital distribution frame modules.provides broadband communications network infrastructure products.  ADC's has billions of fiber optic connections deployed in mission critical applications world wide.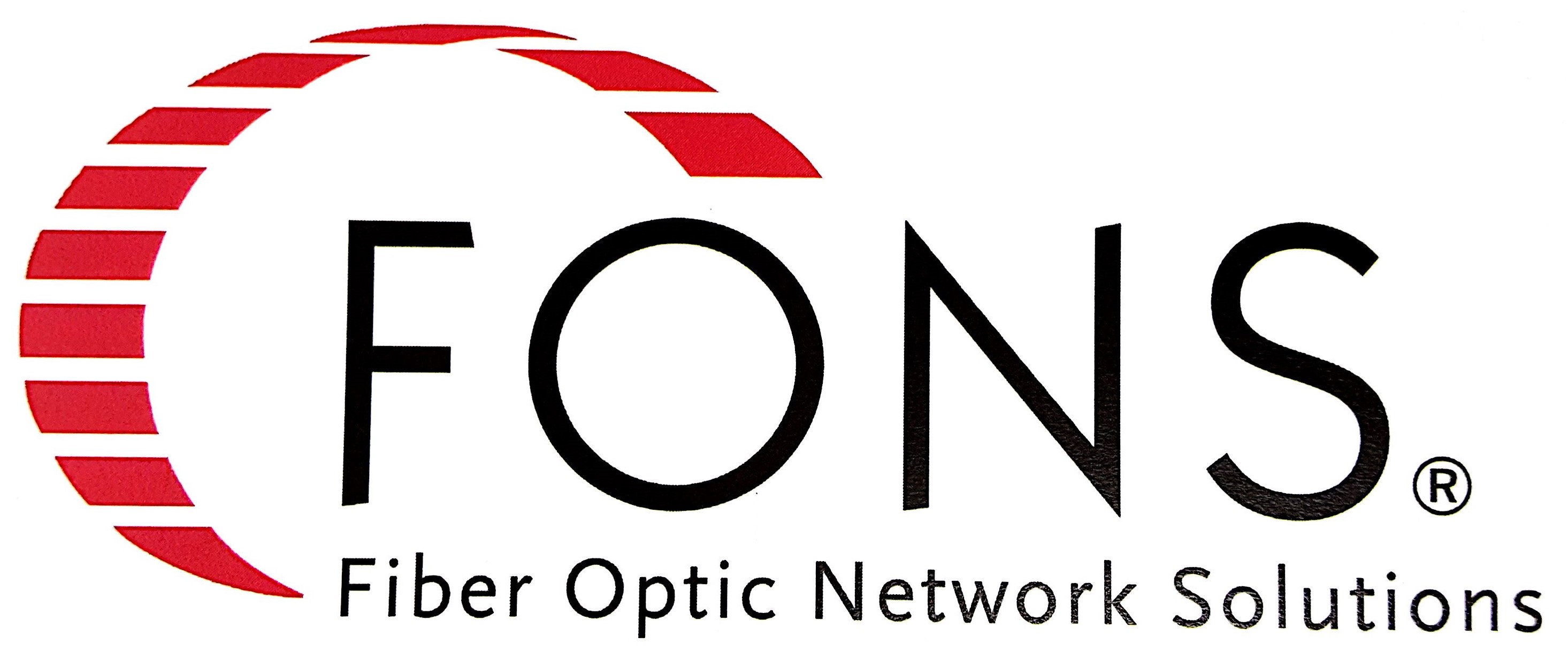 DBX Impact
DBX represented  FONS  for over 4 years growing the business 800%  when they were  acquired by ADC Telecommunications for $ 172 million.  DBX worked closely with Verizon Tier 1 Telecom provider to find innovative solutions for the Fios FTTH program.  We build a large network of relationships and strengthened our position by supporting and educating our customers long after the sale. DBX was producing over 20% of sales at the time of the acquisition.  DBX's efforts and market share positions played a key role in the buyout.
Fiber Optic Network Solutions Corp
Fiber Optic Network Solutions (FONS) Corp., was a high-performance manufacturer of FTTX optical products delivering high-speed, bandwidth rich products for Telecom & Data Center class environments prior to being acquired  by ADC Telecommunications.   FONS was a leader in fiber optic connector technology with over 5 million Telcordia GR-326 certified connectors deployed in mission critical networks. .

DBX Impact
DBX represented AVANEX at its very beginning working closely with founder, Dr. Simon Cao to develop a market for his patented passive filter based MUX and DMUX product line.  DBX's relationships with both service providers and OEM's created a push pull sales model to help gain exposure to Avanex 's products.   In 2009 Avanex merged with Bookham Technology to become Oclaro.
AVANEX
Avanex designs, manufactures and markets fiber optic-based products, known as photonic processors, which are micro-optic devices that perform optical signal processing and are designed to increase the performance of optical networks. Photonic processors offer communications service providers and optical systems manufacturers greater levels of performance and miniaturization for next generation DWDM and OADM products. Photonic processors will enable the all-optical network, which is necessary to support the increasing demand for bandwidth.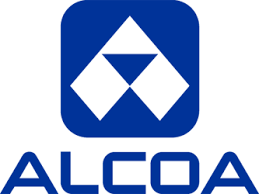 DBX Impact
DBX represented AFL for over 7 years providing solutions to Telecom OEM and service provider marketplace.  DBX sold service OSP drop, fiber optic laser connectorization services, patch panels and fusion splicers.  DBX supported customer closely result in sales growing from $250,000 to over $8M annually.  DBX obtained product approvals at many Tier 1 infrastructure providers that would last for 20 years.  DBX developed major OEM subcontractor relationships for device connectorization,  EDFA sub-assembly and service drop cables.
ALCOA Fujikura Limited
AFL provides industry-leading solutions, products and services to the telecom, electric utility, broadband, communications, OEM, enterprise, wireless, emerging markets of oil and gas, mining, nuclear, avionics, medical, renewable and intelligent grid.   AFL employees over 4600 people worldwide, Sales over $1B.