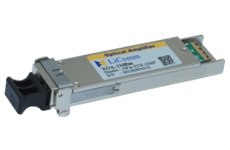 The field pluggable XFP-EDFA is an excellent solution for rapid and inexpensive power addition. Compatible with conventional XFP optical ports in pin out and mechanical, the FOA is an excellent option.
The XOA is a full-function EDFA module with packaged process control circuitry. The XOA is designed for C-Band optical amplification in single and multi-wavelength applications. The XOA has standard output power of 17 dBM, and it is field adjustable from 0 dBm to + 17 dBm with a built in feedback loop. In addition, embedded photo diodes pre and post-pump laser allow for reliable and accurate power delivery. The XOA is tested and certified to the latest industry standard Telcordia specifications.
When low cost and immediate power is needed the XOA is an excellent choice.  The XOA is ideal for fiber deep architectures starved for power.  Data center networks, CATV expansions, remote networks and many more applications. It is designed for todays high speed HD Networks.
Conventional XFP compatible size and pin map
Power Boosting and Pre-Amp for DWDM systems
Output Power 17 dBm
Embedded PD pre and post pump laser- accurate power delivery
EDFA module including micro process control circuit
Uncooled 980 nm pump laser module
Extremely low heat generation
Selectable Output Power
APC (Automatic Power Control; Default) or AGC(Automatic Gain Control; Optional)
FLS (Forced Laser Shutdown)
Control & monitoring by I2C
LVTTL Alarm
Single + 3.3 V power supply
Low Cost Power Deployments, no need for expensive full EDFA rack solutions
Fiber Deep Networks
Low Cost Rural Fiber Optic Network Deployment
Remote Natural Gas Pipeline Operations
Tactical Military Communications
Wireless Backhaul and Remote Cell Tower Fiber Feeds
High Speed Edge Data Centers