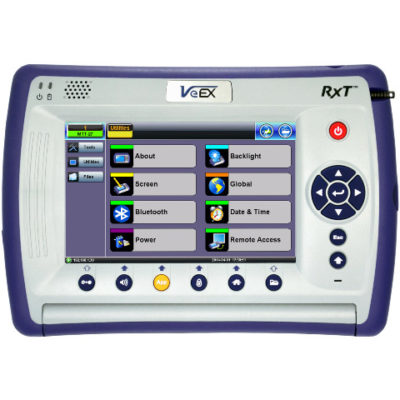 All-in-One Ethernet, Transport and Optical
The VeEX RXT-1200 is a field swappable modular test platform that can be equipped with state of the art features like 400G Ethernet, 25GHz OSA DWDM and OTDR Link Mapper testing.   The VeEX RXT-1200 simplifies field testing and is the industry's best all in one modular testing solution.
The hand-held platform is light weight and convenient to carry.   VeEX is the first choice of front line network professionals.  Craft friendly VeEX's lightweight testers are ideal for onsite troubleshooting and system commissioning.  VeEX test sets are trusted and deployed by many Tier 1 network providers and data centers.  VeEX solves network verification challenges in today's HD network interconnect applications at a fraction of the cost.
Field Swappable Modular Platform Design - RXT Platform
Modern test platform, with a broad range of available test modules covering Access (copper and fiber), Metro, Transport and Core technologies, including DWDM
Application-oriented GUI
GUI familiarity across different test modules and other VeEX products reduces the learning curve
View test results and create detailed reports by region, area, system, and technician, using R-Server centralized management
Enables all jobs to be completed correctly the first time
Multi-technology: Datacom, Fiber Optics, WDM, DSn/PDH, SONET/SDH, OTN, Ethernet, Fibre Channel, CPRI/OBSAI; from 64k to 400Gbps
Expand test functions with a growing list of test modules
Future-proof cost-effective platform
Test set connectivity via Ethernet Management interface, WiFi, Bluetooth®, for back office applications, workflow optimization and remote access
User defined test profiles and Pass/Fail thresholds
Fast and efficient test result transfer to USB memory stick, PC or tablets
EZ-Remote™ for remote testing/monitoring, assistance and training across Internet connections
VeExpress™ for license management and software updates
Ultra-high capacity field-exchangeable Li-ion battery pack extends testing time
RXT-6400_Ethernet 400G Module - Datasheet
This portable 400G test module, supporting native QSFP-DD PAM4, extends the RXT6400 testing range to 400 Gbps and offers a future upgrade path for all-in-one 10M-to-400GE testing. Addesses installation, verification, commissioning, monitoring, troubleshooting, and maintenance tasks, as well as advanced layer 1-4 features, such as FEC codeword Error distribution analysis, PAM4 pre-emphasis, skew, transceiver check and stress, Lane BERT, Throughput test, IPv4/IPv6 and much more.
RXT-6200 Ethernet 1G to 100G (CFP4/QSFP28) + SONET/DSn  Module - Datasheet
The RXT-6200 100G Universal Test Module adds Ethernet, Mobile Backhaul, Fronthaul, Storage Area Networks, OTN, SDH/SONET, PDH/T-Carrier links and services testing, from 1.5/2 Mbps up to 100 Gbps.
RXT-6000e Ethernet 1G to 100G (CFP2/QSFP28) +SONET/DSn Module  - Datasheet
Enhanced Universal Test Module for Carrier Ethernet, Backhaul & Transport Technologies. The RXT-6000e module adds Ethernet, Mobile Backhaul, Storage Area Networks, OTN, SDH/SONET, PDH/T-Carrier links and services testing, from 1.5/2 Mbps up to 100 Gbps.
RXT-3400: Advanced Multi-Service Testing - Datasheet
The RXT-3400 add-on module for the versatile RXT1200 test platform offers state-of-the-art support for Access, Metro, Core, Transport, Carrier Ethernet, Backhaul, Fronthaul and SAN Technologies up to 16GFC. VeEX RXT is the industry's most flexible, compact, complete and future-proof hand-held test solution, from 64k to 400GE, including Fiber Optics and WDM.
RXT-3000_Multi-Service Module - Datasheet
Full featured test solution for OTN, SDH, SONET, PDH, DSn networks with extensive support for Mobile Backhaul technologies with SyncE, 1588v2 PTP, Carrier Ethernet, Fibre Channel and CPRI/OBSAI testing.
RXT-4100+ OTDR V-Scout Linkmap Module - Datasheet
Feature a range of Optical test functions including OTDR, OPM, Light Source and VFL. Multi-protocol OTN, SDH/SONET, Ethernet, Fibre Channel and Synchronous Packet Networks utilizing optical fibers can easily be verified as well as OSA testing on CWDM/DWDM network with a single test platform ensuring maximum test productivity.
RXT-4113_xWDM (DWDM/CWDM) OTDR V-Scout Linkmap Module - Datasheet
The industry's first combined CWDM/DWDM OTDR in a single test mode. CWDM and DWDM (C-band) wavelength tuning with up to 500,000 data point sampling resolution offers unprecedented network characterization.
RXT-4510_OSA (Optical Spectrum Analyzer) Module - Datasheet
Optical Spectrum/Channel Analyzer for CWDM and DWDM networks. Using micro-optic design and MEMS tuning technology, the OSA modules measure key optical parameters such as wavelength, channel power, and OSNR.
Product Specifications and Ordering Guides 
Product Training Videos